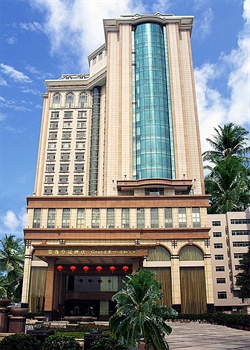 The Grand Royal Hotel (Guangzhou Jiayi Huangguan Jiudian) is a ten-minute drive from Pazhou Convention & Exhibition Center and a short walk from Guangzhou Space Flight Spectacle and Grand World Scenic Park. The city ring expressway in front of the hotel leads to Guangzhou Science City, Gaotang Software Park. A regular shuttle bus takes guests to the airport.
Spacious luxury guestrooms offer all the standard amenities as well as international and domestic direct dial phones.
This Guangzhou hotel offers a Chinese and a Western restaurant for guests to dine in as well as room service for those who prefer dining from the comfort of their own room.
The outdoor pool looks out over part of the city from several stories up.